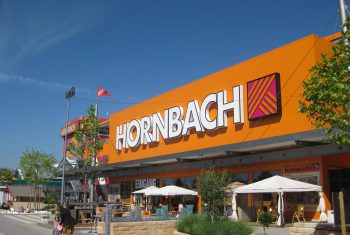 Seven locations in Berlin, Munich, Essen, Kiel, Binzen, Remseck (Germany) and Malmö (Sweden)
Transaction volume around € 190 mn
Boston/Munich – Taurus Investment has sold a portfolio of seven Hornbach DIY stores. The portfolio was purchased by the Hahn Group for their institutional Hahn VZWL Retail Fund from Taurus Investment Holding (Deutschland) GmbH & Co Baumarkt Immobilienfonds KG. The acquisition was a share deal valued at about € 190 mn.
The properties are located in Berlin, Munich, Essen, Kiel, Binzen, Remseck in Germany and Malmö in Sweden. The Berlin property also serves as a regional training center for Hornbach employees and is one of the four online retailing centers in Germany. The seven stores comprise rentable space between 13,000 and 18,000 sqm each, with the entire portfolio totaling 114,000 sqm. All of these properties are fully leased to Hornbach under long-term contracts.
Michael Hahn, CEO of the Hahn Group, explains the advantages of the acquisition: "The Hornbach portfolio offers strong and sustainable returns for our investors. The location and size of all properties are excellent, as DIY stores benefit from high profitability and stability, and Hornbach has an outstanding reputation."
Lorenz Reibling, Chairman and Senior Partner of Taurus Investment Holdings, says: "We are satisfied with having sold the portfolio of seven Hornbach stores to the Hahn Group after a hold period of more than ten years. Taurus acquired the stores in a sale-leaseback-transaction from Hornbach between 2004 and 2006. We look forward to further cooperation with the Hahn Group."
Hornbach is considered one of the most profitable and successful DIY store operators in Germany, with a growth rate last year of 2.4 % in the first nine months. This is faster than the overall market growth rate of 1.2 %, according to figures from the German DIY store trade association BHB (Handelsverband Heimwerken, Bauen und Garten e.V.).