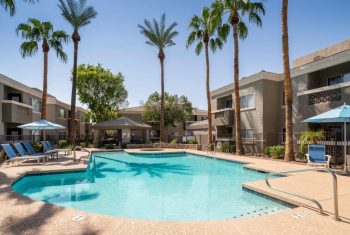 Taurus Investment Holdings, LLC, a private global real estate investment firm, announced today the acquisition of Indigo Springs for $56,400,000. The community, built in 2000, is a 240-unit garden-style apartment complex located in Mesa, Arizona. This acquisition will boost Taurus' multifamily portfolio to over 5,000 units acquired and developed nationwide. This is Taurus' second acquisition in the last 6 months in the Phoenix market. In August 2020, Taurus purchased Avenel on 16th.
Peter A. Merrigan, CEO of Taurus, stated, "Indigo Springs is a great fit for our growing value-add multi-family acquisition strategy. The Mesa submarket is highly desirable for rental investors due to its preferred suburban lifestyle, excellent area amenities, and immediate proximity to a broad range of employers concentrated within a 10-mile radius."
The third most populated city in Arizona, Mesa boasts a highly skilled, well-educated workforce. Indigo Springs is located off US-60, on S. Stapley Drive, offering direct access to the Fiesta District, and NW Gilbert Corridor employment centers which encompass over 36,000 jobs.
"Phoenix continues to be a focus market for Taurus in the western United States. We remain committed to expanding our presence in the market in 2021. We believe Phoenix will continue to be an attractive destination for new residents and companies, especially those that are considering a move from high-cost coastal markets," said Max Dorsch, Acquisitions Director of Taurus.
FULL COVERAGE:
Phoenix Business Journal
Commercial Executive Magazine
ConnectCRE