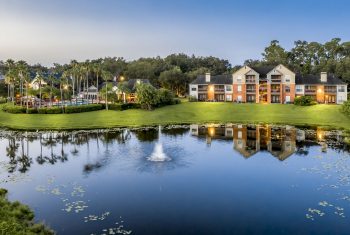 TAURUS CONTINUES MULTIFAMILY PORTFOLIO EXAPNSION:
ACQUIRES 360-UNIT MULTIFAMILY COMMUNITY FOR $65,000,000
Taurus Investment Holdings, LLC announced the acquisition of Montevista at Windemere, for a purchase price of $65,000,000. The community, built in 1989, is a 360-unit, Class B apartment community located in Orlando, Florida. This acquisition will boost Taurus' multifamily portfolio to more than 4,900 units acquired, developed and sold nationwide.
"At Montevista, we saw an opportunity to renovate an already established development with improved apartment finishes and upgraded amenities. The combination of the area's top-tier education institutions, nearby retail, and easy access to major employment nodes make Montevista's location unique and highly desirable for residents," says Peter A. Merrigan, CEO of Taurus. "Taurus has been active in Orlando for over 25 years and maintains strong confidence in the economic demand and resiliency of the area."
Located at 6421 Conroy Road, Montevista features a mix of townhome-style units with one- and two-bedroom floor plans. The property offers convenient access to Interstate 4, SR 408 and Florida's Turnpike.
Institutional Property Advisors brokered the deal and Berkadia provided the financing on the acquisition.