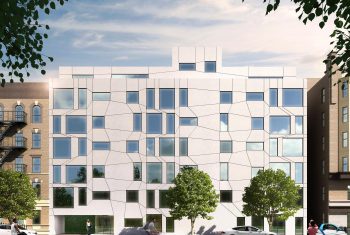 Synapse Development and Taurus Investment have topped off construction on PERCH Harlem, marking New York City's first residential building to meet Passive House standards.
New York—Local real estate firm Synapse Development Group, in a joint venture with its partner Taurus Investment Holdings, announced the topping off of construction on PERCH Harlem, a seven-story multifamily building that will be the first Passive House-designed community in the city.
Located in the Hamilton Heights neighborhood of Harlem, on the corner of West 153rd Street, the 34-unit community is expected to be complete in late spring of 2016. The property is the first Perch Living © design in the country, part of a new multifamily brand focused on low-impact living and community oriented design.
To become the first market-rate apartment building designed to Passive House standards in New York City, the community needs to meet certain criteria, which is achieved through intelligent design and implementation of the five Passive House principles: thermal bridge free design, superior windows, ventilation with heat recovery, quality insulation and airtight construction, according to the Passive House Institute. The Passive House Institute focuses on research & development of construction concepts, building components, planning tools and quality assurance for energy-efficient buildings.
"Taurus and Synapse are focused on redesigning urban living with a higher quality of construction in the multifamily market, and our building will operate using 80 to 90 percent less energy consumption when compared to traditional multifamily design," said Justin Palmer, CEO of Synapse.
The 40,000-square-foot PERCH Harlem will blend low-impact living with a design and common spaces that focus on building a community. The companies will also equip each apartment with central heating and cooling and an energy-recovery ventilator so residences have control of the temperature and airflow rate. The interior designer on the project is Me and General Design. Building amenities will include a private gym, rooftop terrace, bicycle storage and a resident lounge.
Peter Merrigan, founding partner & CEO of Taurus added that his company has a longstanding passion for sustainable design and several of its projects use the "the latest available technology to optimize building performance, while minimizing negative impacts on the environment."
Building architect Chris Benedict has designed an unconventional building facade with glass squares and rectangular shapes in a playful arrangement. Each apartment will have large fixed windows to maximize light and solar gain, with smaller windows for fresh air when desired. Residents will have views of the George Washington Bridge and midtown Manhattan.
This project is part of a growing trend of passive house structures throughout New York City, which includes 28 buildings, according to Curbed NY.
FULL ARTICLE: https://www.multihousingnews.com/post/nyc-gets-first-passive-house-designed-community/