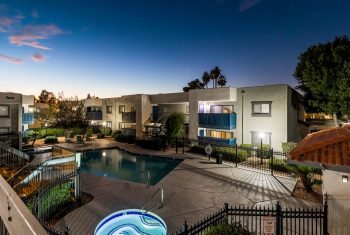 Taurus Investment Holdings, LLC,  announced today the successful acquisition of a 1981-vintage, 160-unit, Class-B apartment community located in the burgeoning northwest submarket of Phoenix, AZ. for a purchase price of $42,000,000. Formerly called Rise Metro, the property has been renamed Raystone, following the transaction.
"Phoenix continues to be a top-tier market for multifamily investment," said Peter A. Merrigan, CEO of Taurus Investment Holdings. "We're constantly identifying assets in strong markets that are likely to outperform the overall market. Through RENU's program, we are able to add further value and future-proof older assets, such as Raystone, for years to come."  The acquisition boosts Taurus' multifamily portfolio to more than 7,300 units acquired and developed nationwide.
Through Taurus's energy-focused subsidiary, RENU Communities and its tailored program, Taurus will aim to transition Raystone to a low-carbon, energy efficient multifamily complex by replacing all HVAC units with highly efficient air-source heat pumps, replacing existing electric water heaters with heat pump water heaters, implementing an energy monitoring system in each unit, upgrading lighting and installing solar panels.
"Raystone is an ideal candidate for our retrofit program given that the electric provider and state of Arizona have set high standards for meeting climate change goals and are offering a variety of financial incentives; current water heaters and HVAC units are largely inefficient and nearing the end of their useful life, and the property has largely unshaded roof layouts that are ideal for solar panels," said Christopher Gray, PhD., Chief Technology Officer of RENU Communities. "RENU's tailored program for Raystone will aim to reduce its carbon footprint by 40% and will greatly improve property operations as well as the quality of life for residents."
The location continues to be among the fastest growing metropolitan areas in the nation, fueled by its advantageous location – including the $750M redevelopment of the Metrocenter regional mall, located 1.5 miles from the property. Once complete, the 68-acre site will be home to a variety of curated boutiques, popular retail stores, restaurants, and other commercial and entertainment venues.  Additionally, Raystone is located a half mile from a Valley Metro light rail station, the only one of its kind in the Phoenix metro, providing tenants with public transit access to many of the major employment centers such as Midtown Phoenix, Downtown Phoenix, Sky Harbor Airport, Downtown Tempe and Mesa. The property is also conveniently located one mile from Interstate 17, providing easy access to over 227,000 jobs within a 7-mile radius.
"Historically, the northwest submarket has been a discount to the overall Phoenix metro. We anticipate that that re-development of the Metrocenter Mall will be beneficial for current residents and will also attract and capture growth." said Max Dorsch, Director of Acquisitions at Taurus.