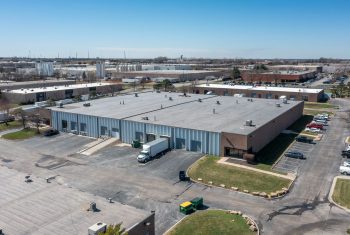 Taurus Investment Holdings, LLC, a global private equity real estate firm operating for over 40 years with experience in multifamily, office, logistics, mixed-use, and renewable energy sectors, announced today the acquisition of the Kansas City Light Industrial Portfolio for a purchase price of $55,250,000. Comprised of 20 buildings and more than 715,000 square feet, the newly acquired portfolio will expand Taurus' Industrial Platform to encompass 196 buildings, totaling over 13 million square feet.
Located in the heart of Kansas City's industrial market, the Kansas City Light Industrial Portfolio is centrally located to meet emerging e-commerce demands accelerated by the pandemic. A crucial hub, Kansas City is the 16th largest industrial market in the United States and accessible to 85% of the U.S. population within two days by truck. With 30% more interstate highway miles per capita, and more rail freight traffic than any other U.S. city, the Kansas City Light Industrial Portfolio provides much-needed industrial space to the sprawling Midwestern city.
"High-value logistics investments are a top priority for Taurus," says Peter Merrigan, CEO of Taurus Investment Holdings. "We have a long history of successful logistics investments, and our latest acquisition further demonstrates our commitment to assembling quality last mile logistic properties."
Taurus has a long and successful track record of executing and leasing logistics and distribution assets in multiple countries. Over the last five years, Taurus has acquired and developed 20.5 million square feet of industrial space in the U.S. alone. The current Taurus portfolio is over 96% leased to 500+ tenants.
"As the industrial sector continues to surge, and Kansas City continues to grow and solidify itself as one of the largest industrial markets in the country, our team is focused on meeting the increasing demand for warehouse space and will continue to make strategic investments in the city," said Lathan Allen, Managing Director of US Industrial at Taurus. "We're confident that we'll see an influx of leasing demand from tenants throughout 2021 and beyond."
Bill Garey, Director of Acquisitions stated: "Kansas City is becoming increasingly critical to the national supply chain. With extensive transportation networks and a centralized location accessible to the entire country, the market is poised for continued logistics growth."