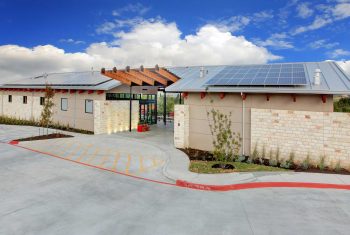 In East Austin, along State Highway 130, just 10 miles away from the Austin-Bergstrom Airport and less than 20 miles from downtown Austin, a massive master-planned community has been taking shape over the past few years. Spanning more than 2,000 acres, Whisper Valley encompasses creatively designed residential neighborhoods and business districts, set among 700 acres of green space and new parks. It is one of the 10 biggest developments of its kind in the U.S.
The first piece of news about the project surfaced in 2015, announcing an ambitious plan comprising 7,500 net-zero-ready single-family homes and apartments, two schools and more than 2 million square feet of retail and office space.
Taurus Investment Holdings and its subsidiary EcoSmart Solution are behind the project. EcoSmart designed, built and operates Whisper Valley's innovative energy supply system—a geothermal loop system combined with ground-source heat pumps and solar photovoltaic arrays. More recently, Shell New Energies joined the development team.
"As one of the world's largest energy companies, Shell was originally attracted to ESS' role at the intersection of real estate and renewable energy," Peter Merrigan, CEO of Taurus Investment Holdings, told Multi-Housing News. "As the energy transition in the U.S. develops in the years to come, real estate solutions will be critical to successfully addressing decarbonization," he said.
LINK TO FULL ARTICLE: MultiHousingNews