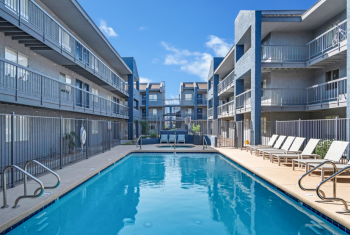 Taurus Investment Holdings, LLC announced the acquisition of Avenel on 16th for a purchase price of $25,950,000. The complex is a 200-unit, garden-style property located within the dynamic infill Camelback submarket. Built in 1981/84, Avenel on 16th is a mix of studios, one- and two-bedroom units. This acquisition, Taurus' first in the Phoenix market, will boost its multifamily portfolio to over 4,500 units acquired, developed and sold nationwide.
"We believe that Phoenix is a great growth market. The purchase of Avenel on 16th represents Taurus' confidence in the prospects for this region. This investment is a fantastic opportunity for us to participate in the continued transformation and future development of a premier submarket at a price that is a significant discount to replacement cost," says Peter Merrigan, CEO of Taurus Investment Holdings.
Avenel on 16th is within 3.5 miles of four major employment centers (Midtown, Downtown, Camelback, and Phoenix Sky Harbor Airport), and within a 2-mile radius of six major hospitals. Nearly 60% of the people living within a 1-mile radius of Avenel work in the healthcare industry. The property offers easy access to State Highway 51.
"In spite of the challenges presented by the ongoing pandemic, all parties persevered to close this transaction in a safe and professional manner. We are excited to enter the Phoenix market and have a high level of confidence that it will continue to be an attractive destination for new residents and companies in the coming years," said Max Dorsch, Director of Acquisitions at Taurus Investment Holdings.
FULL COVERAGE:
Multi Housing News
AZ Big Media
CoStar News
RE Business Online