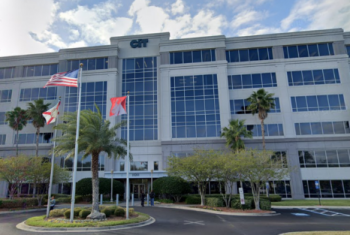 Demand for loans is soaring as the economic toll of COVID-19 continues to mount. Lenders have been so bombarded by applications that Wells Fargo had to get a federally imposed asset cap lifted, while JPMorgan Chase temporarily suspended all small business loans outside of the federal Paycheck Protection Program.
Despite the surge in loan applicants, Boston-based Taurus Investment Holdings LLC, the owner of the One Deerwood in Jacksonville, has secured a $20.1 million bridge loan, with the help of JLL Capital Markets senior directors Porter Terry and Tarik Bateh.
Taurus bought the 161,000-square-foot, Class A office building at 10201 Centurion Parkway for $24.8 million in 2007. Its loan from Prime Finance is payable over three years at a floating rate. It refinances a mortgage taken out in 2017 when the building was renovated.
"The closing took place in the midst of the current unrest in the financial markets and both Taurus and Prime worked diligently through those challenges to get the transaction closed," Terry said in a statement.
The building was is 88 percent leased, according to a JLL release.
The office market has been hit especially hard by a slowdown in CRE sales in Jacksonville, a Business Journal analysis of Duval County deed data found. The proceeds from large office sales dropped from $173 million in January to $83 million in February to just $8 million in March.
FULL COVERAGE: