WHISPER VALLEY WINS MASTER PLANNED COMMUNITY OF THE YEAR AT AUSTIN'S 2021 MAX AWARDS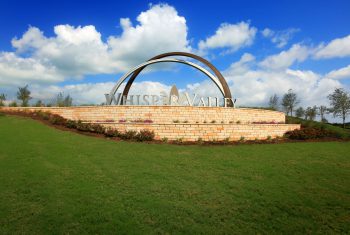 (Austin TX June 24, 2021)   Whisper Valley, a 2,063-acre master-planned community in East Austin developed by Taurus Investment Holdings, was named Austin's 2021 Master-Planned Community of the Year Saturday night at the Max Awards gala held at the new Marriott Downtown.
Hosted by the Home Builders Association of Greater Austin, the annual Max Awards recognizes innovation, creativity and sales and marketing excellence in the new home industry in the Austin market.  The awards are judged by a distinguished panel of new home experts in sales, marketing, architecture, and interior design from around the country.
Almost 400 entries were submitted in categories representing all forms of marketing and sales success, architecture, interior merchandising, and individual achievement awards. Whisper Valley took home the prestigious Master-Planned Community of the Year Award as well as the Welcome Center of the Year for their innovative Discovery & Community Center.
Whisper Valley features 700 acres of green space including a 600-acre planned public park, walking trails, parks, playgrounds, five neighborhood organic gardens and amenities such as a fitness center, resort pool with tanning ledges and beach entry, a show kitchen for cooking classes, an activity room, and a spacious Dog Park. A full-time Lifestyle Director also plans special events, 5k runs, yoga and fitness classes, holiday activities and cooking and nutrition classes for residents.
The judges recognized the innovation and impact this sustainable development will likely have on future master-planned communities because it is the first large-scale sustainable master-planned community in the nation.  Whisper Valley is powered by the EcoSmart program centered around a revolutionary GeoGrid™, or geothermal energy supply system, that is installed upfront with the rest of the community infrastructure. A ground source heat pump located in each home then delivers the heating or cooling as needed.
This geothermal energy system reduces energy consumption in the homes by up to 65%, and when paired with the Solar PV included in every home, generates electricity so the homes are zero energy capable, depending on the resident's energy behavior. By providing this EcoSmart GeoGrid™, the developer is able to help builders reach zero energy capability at a much more affordable price than energy efficient home construction alone could provide…plus it saves homeowners a lot on their monthly energy bills!
All 7,500 single family and multi-family homes planned for Whisper Valley will be zero energy capable, which EcoSmart defines as a home with a HERS rating of 25 or below. Homes in Whisper Valley typically have a HERS Rating between 16-20, which is an astounding energy efficiency rating. Included in each Whisper Valley home are high energy efficient appliances, smart home technology including the NEST Thermostat, plus the Sense energy monitoring system which helps each family manage their personal energy usage on their phone.
Whisper Valley is also introducing an optional Power Resiliency Package to their EcoSmart Solution program. The Power Resiliency Package pairs a battery with solar PV in Whisper Valley homes to work with the local grid to store excess energy and optimize its use, providing resiliency during power outages. The batteries are designed to charge using the home's on-site PV generation, utilizing excess energy to offset peak consumption and sustain critical energy loads in the house in the event of a grid failure or blackout.
Whisper Valley home builders include Pacesetter Homes, GFO Home, Buffington Homes, AHA Dream Homes and Thurman Homes with new homes starting in the upper $300s to 600s on beautiful rolling terrain in East Austin.