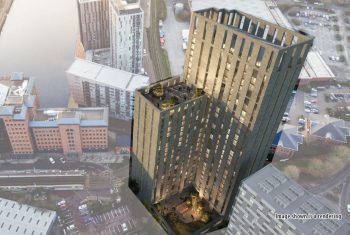 Site-ready project will be the gateway to booming Salford Quays and Manchester City Centre; Anchorage Gateway to be the only BTR development that will come to market in next three years
Taurus Investment Holdings, LLC, announced today, in a Joint Venture with Cole Waterhouse, and their UK partner Rowan Asset Management the acquisition of a fully permitted, construction-ready site, Anchorage Gateway. The project, located in a major growth area of Salford Quays in Greater Manchester, U.K., will address the increasing demand for rental units that are needed due to the competitive job market and various universitates located throughout the region.
The fully permitted, construction-ready site has been identified for a 290-unit Build-to-Rent (BTR), Multifamily project, primely located within a few hundred feet from the ever-expanding BBC Media City and only three miles from Manchester's central business district. The region's flourishing job market, in addition to its proximity to many higher learning institutions like the University of Manchester, The University of Salford and more, make BTR a major growth sector., with leading market research firm CBRE projecting that more than 70,000 households will live in BTR accommodations by 2028 in Manchester alone.
"Build-to-Rent is well-established in the U.S., where it's known as "multifamily". It's still a relatively new concept in the U.K. but quickly gaining traction, and Manchester is an ideal market thanks to its thriving student population, young workforce and dynamic economic growth," said Peter A. Merrigan, CEO of Taurus Investment Holdings. "We are thrilled to be reentering the UK and look forward to working with Cole Waterhouse on this development."
One of the fastest growing regional economies in the U.K., Greater Manchester is home to a high proportion of residents aged 20-34, the primary target audience for BTR. Currently, there is an extremely limited supply of BTR stock in Salford Quays, and Anchorage Gateway represents the only development coming to market in the next three years.