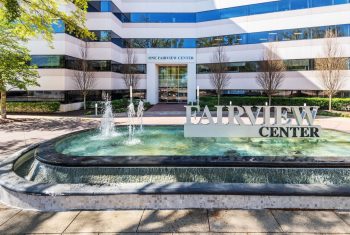 Taurus Investment Holdings, LLC, announced today the successful acquisition of One & Two Fairview Center, comprised of two adjacent office buildings, totaling 182,841 square feet.  Leased to a diversified mix of 19 firms, the property is currently 92% occupied and includes notable tenants such as Finance of America, Zapata, GSA, and MGC Insurance Defense. The property was acquired from CapRidge Partners – a real estate investment and operating firm based in Austin, TX – for a purchase price of $46,250,000.
"Taurus has been investing in the office sector for over 25 years and maintains strong confidence in its resiliency and future growth potential. Charlotte has benefitted from tremendous growth driven by employers seeking access to the area's educated talent pool, high quality of life and lower cost of doing business." said Peter A. Merrigan, CEO of Taurus Investment Holdings. "This acquisition, our first in the Charlotte office market, highlights Taurus' ongoing focus to invest in innovative markets that we believe will continue to outperform in the coming years."
Located in the SouthPark submarket, One & Two Fairview is less than ten miles from Charlotte's Central Business District, and Charlotte Douglas International Airport. SouthPark is home to multiple corporate and regional headquarters and plays host to a variety of high-end eateries, shopping complexes, luxury apartment communities, and hotels.
"One & Two Fairview Center are extremely well located assets in the SouthPark submarket and appeal to a diverse set of tenants. We look forward to expanding our presence in the greater Charlotte market." said Sam Flood, Managing Director at Taurus.